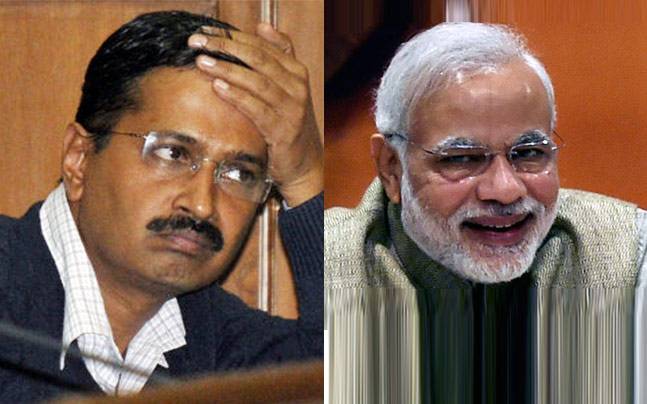 Delhi has, yet again, chosen BJP over AAP in MCD elections 2017. Twitterati is now trolling him for the Aam Aadmi Party's defeat.
The trolls are particularly taking a dig at Kejriwal's claim that the EVMs used on the polling days were rigged. We have selected the best ones for you:
1.
Our kids definitely don't need a leader like Arvind Kejriwal. Imagine failing in the annual examination and claiming that pen was tampered 😂

— Monica Verma (@TrulyMonica) April 26, 2017
2.
"People Didn't Vote For Modi, EVMs Did" -Arvind Kejriwal#आप_साफ #DelhiMcdElection2017 #MCDresults #MCDelectionresults2017 #ArvindKejriwal 😁 pic.twitter.com/b6mFYJjjtU

— VîshãL (@Muzica_Lover) April 26, 2017
3.
#MCDresults Dr.Arvind Kejriwal placed two choices in front of the Delhi voters- "Dengue or Him".People chose "Dengue", because it is curable

— Abhishek Ranjan (@Abhi_gopalganj) April 26, 2017
4.
Ajay Maken has taken responsibility for MCD defeat and resigned.
Arvind Kejriwal has given responsibility to EVM's for defeat and agitate. 😎

— Tanmay Shankar (@Shanktan) April 26, 2017
5.
Arvind kejriwal:
Post AAP win: 30 tweets per day
Punjab loss: 1 tweet per day
MCD loss: delete old tweets
2019: deletes Twitter account

— Yogi Adityanotnath (@reviewero) April 26, 2017
6.
#MCDresults Arvind Kejriwal revealing symbol of the movement he will now start from today #DelhiMCDElections2017 #MCDelectionresults2017 pic.twitter.com/diSNmqYVNF

— Abhishek Gosavi (@Abhi_Gosavi17) April 26, 2017
7.
Breaking News:
Arvind Kejriwal accepts complete responsibility for all the seats AAP won today
for Rest he blamed EVMs

— Rishi Bagree (@rishibagree) April 26, 2017