Delhi Metro Rail Corporation (DMRC) has increased its fares for the first time since 2009. The increase will range between ₹10 and ₹50.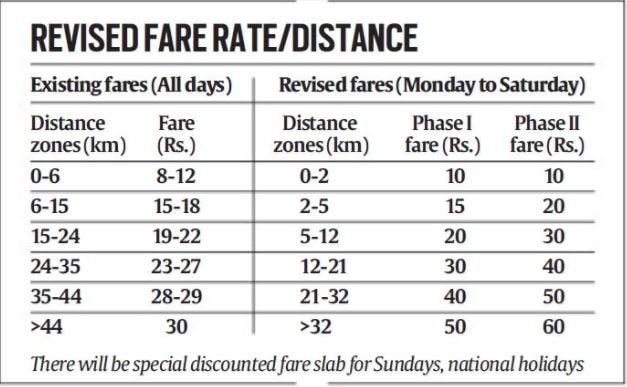 "The fare revision will be implemented in two phases. Phase-I will be implemented from May 10, while Phase II will be implemented from October 1," said a DMRC spokesperson.
In phase 1, Instead of ₹8 at present, the base fare will begin at ₹10 for a distance of up to 2km. The maximum fare will be charged for travelling more than 32 km of Rs 50.
From October 1, the fare slabs will begin from ₹10 with a maximum fare of Rs. 60.
"The necessity to revise fares was because of increase in the cost of inputs viz. staff costs, the cost of energy and the cost of repair and maintenance," the spokesperson added.
In 2009, the minimum fare was increased from ₹6 to ₹8 and the maximum fare was hiked from ₹22 to ₹30.
Further, discounted fares have been approved to encourage ridership on Sundays and national holidays. These fares start from ₹10 and go up to ₹40. After October 1, these fares would be between ₹10 and ₹50.
Commuters using smart cards will continue to enjoy 10% discount on every journey.
"To avoid overcrowding during peak hours, an additional 10% discount will be given to passengers with smart cards who exit from the metro system during non-peak hours," the spokesperson said.
The off-peak hours will be from the start of services at 8 a.m., 12 noon to 5 p.m. and 9 p.m. to the closing of services.
The value of a tourist card with a day and three days validity shall be ₹200 and ₹500, respectively. Fares for the Airport Express Line will remain unchanged.