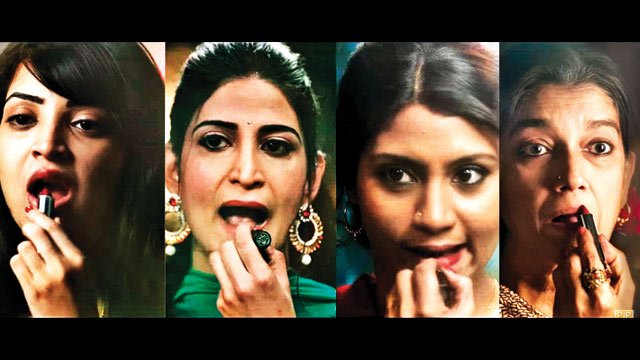 Central Board of Film Certification (CBFC) committee has refused to certify National Award-winning filmmaker Prakash Jha upcoming film, 'Lipstick Under My Burkha'.
The film directed by Alankrita Shrivastava, starring Konkona Sen Sharma, Ratna Pathak Shah, Aahana Kumra and Plabita Borthakur was screened for the Censor Board's Examining Committee in January. Jha, who is producing the film, was later informed that the film cannot be certified as it is "lady-oriented, their fantasy above life" and contained "contentious sexual scenes, abusive words, audio pornography and a bit sensitive touch about one particular section of society."
Farhan Akhar, took to his social networking handle to post a picture of the letter and lash out at the board for their actions.
Below is the reason CBFC listed for denying #LipstickUnderMyBurkha a release. Keep your barf bag ready.. pic.twitter.com/NFO42sRJIb

— Farhan Akhtar (@FarOutAkhtar) February 23, 2017
Jha told Mumbai Mirror, "As a country, we must encourage freedom of expression but the CBFC refusing to certify films that tell uncomfortable stories discourages filmmakers from pushing the envelope. Films should challenge the status quo which is what 'Lipstick Under My Burkha' perhaps does and I believe our audience deserve to watch it."
Reactions:
CBFC won't certify 'Lipstick Under My Burkha' because of 'Sexual Scenes & Audio Pornography': https://t.co/8gGQEglGBX pic.twitter.com/UYqqTQKtt4

— VagaTweets (@VagaTweets) February 23, 2017
Change the script to a woman doing daily chores, subject her to eve teasing, add a rape scene, get her to gyrate and voila. It'll pass. https://t.co/vpMJFiRT8U

— Caralisa Monteiro (@runcaralisarun) February 23, 2017
Since Pahlaj Nihalani refuses to grow up, @NetflixIndia and @AmazonVideoIN should show the movie #lipstickundermyburkha

— Baña dé Lohagarh (@kamleshksingh) February 23, 2017
First #Moonlight then #lipstickundermyburkha.
Bcoz as per #CBFC gays and women dont need/enjoy sex!!!

— Tathagat Ghosh (@TathagatGhosh) February 23, 2017
I don't know what's more dazzling: CBFC's logic or its spelling. #LipstickUnderMyBurkha

— Deepanjana (@dpanjana) February 23, 2017